Keep your cool air inside where it belongs!
The Urban Green Council completed a study of room air conditioner installations in 2011 for New York City and was surprised by the results. The study found that the average room air conditioner has air leaks equivalent to a six square inch hole. It concluded that solving the room air conditioner leak problem could lower New York City's energy costs by$130-$180 million every year. The problem is nationwide and is the result of a lack of focus on better installation solutions. Typical accordion style side panels are very thin and have minimal insulation. Nature's Cooling Solutions' Kit For Insulating Side Panels includes insulated panels that are made of 1/2 inch thick closed cell foam and raised rib design weather-strip.
The Solution
Made of semi-rigid closed cell foam and have superior insulation properties that will reduce energy loss

Waterproof, keeps the stormy weather outdoors

Increased panel thickness decreases outside noise

Uniform look provides improved aesthetics

Ribbed

weather-strip provides superior seal and prevents air leaks even with uneven surfaces

Moisture and

weather resistant
Recommended by National Renewable Energy Laboratory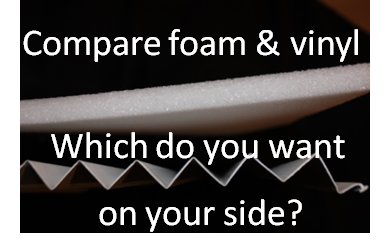 Typical accordion style wing panels are very thin and have very little insulation value. Nature's Cooling Solutions offers insulated panels that are 1/2″ thick closed cell foam (16 times thicker than accordion panels). The panels provide approximately 5% in energy savings (estimated by National Renewable Energy Labs) and provide a quick payback for most room air conditioners.